Luís Franco Martins is Senior Team Leader Quality Control at The Floral Connection. In this interview we talk to him about his background and his passion.
Luís is originally from Lisbon, Portugal, where he worked as an optician. Although he enjoyed his job, he earned relatively little from it and did not see many opportunities for the future. Fourteen years ago, he decided to move to the Netherlands and ended up working in greenhouse construction, which in retrospect was a big transition from making and fitting glasses to the physically demanding work of building greenhouses.
From glasses to flowers
Through a friend, Luís ended up at Green Partners, where he started in the production. Everything was new and he learnt more about the production lines and, after a while, started working as an order picker. Luís: "I was determined to learn everything and started to understand the production process well." He then moved to the central packing department, where at that time everything was done manually before being automated.
Finally, Luís found his place in the quality department, which was the missing piece in his production experience. He began by carrying out checks on the conveyor belt and, over time, became the team leader. He still fulfils this role with great passion and pleasure. He also made the transition from temping to permanent employment and witnessed the merger that created The Floral Connection.
Language skills, football and nostalgia for Portugal
In addition to Portuguese, Luís is fluent in Dutch, English, Spanish and Polish. His command of Polish is particularly useful as many of his colleagues speak it. His girlfriend is also Polish, and one of the things she does is make sure he has a well-filled lunchbox every day. Luckily, they also share a love of Portugal, which is why they spend almost every holiday together in Luís' home country.
Alongside his work, football is his great passion. Luís: "I am a loyal supporter of Sporting Portugal and Feyenoord. In my spare time, I like to go to Feyenoord matches. I also love the beach because it reminds me of Portugal. That is why I live in Naaldwijk with my girlfriend, because the beach in Monster is close by." When asked what he misses most about Portugal, he mentions the beach, the nice weather and the delicious food.
Always looking for improvement and quality
In his work, Luís constantly strives for improvement, both in terms of efficiency and the well-being of his colleagues. He attaches great importance to honouring agreements, which is a core value for him. Luís: "My biggest challenge is to ensure that quality remains at a high level every day. This starts with a careful assessment of the flowers on arrival and thorough checks during the production process". Luís has a well-rehearsed team and the support of his manager, Marco. Even during his travels, Luís cannot resist visiting shops to see how 'his' bouquets are presented.
Another big challenge is to organise the schedule. Fortunately, the staff are flexible and Luís is able to respond well to the demands of sales. During busy periods such as Valentine's Day and Mother's Day, they work together to ensure quality for customers.
A thriving career with unlimited ambitions
The merger created The Floral Connection, a larger and more professional company. The conditions in the production hall have been optimised for the processing of flowers. Quality used to be part of production, but now it is a separate department because of its importance. "This has made the work even more enjoyable and challenging for me," says Luís.
Luís emphasises the importance of the team and the energy it gives him. He is always ready for his team and they are ready for him. Luís has had a flourishing career and enjoys the challenging work, the continuous improvement in quality and the dynamism within his team. He believes that there are no limits to what he can achieve and is always looking for new opportunities. His motto is therefore: "The sky is the limit".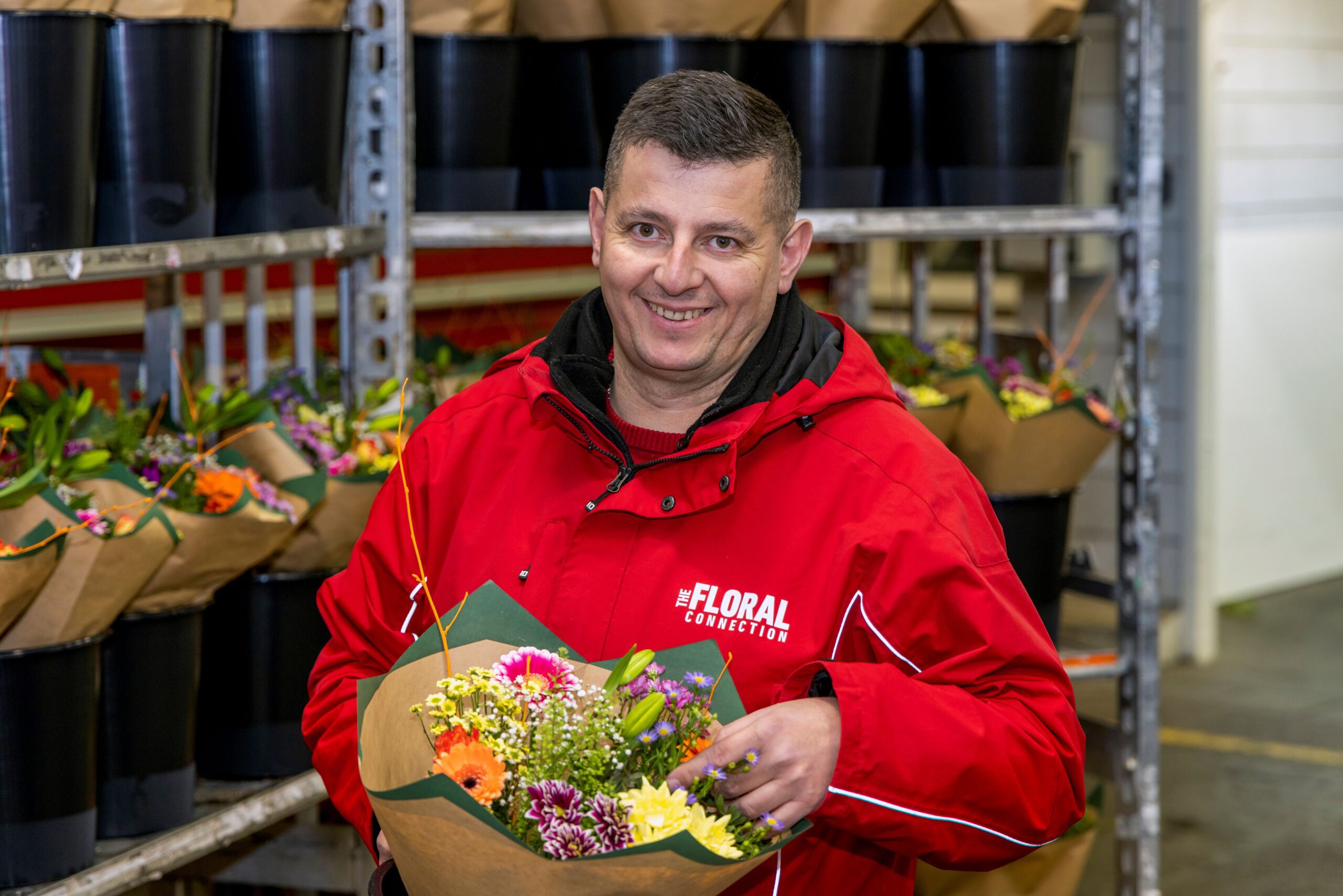 The latest news
Keen not to miss out on any of The Floral Connection's news? Check out all news items in our news overview.
News overview